Werner Lake Cobalt Deposit
Locations:

Werner Lake Cobalt Deposit

Status:

Exploration

Mineral Assets:

Cobalt, Copper, Nickel, Gold and PGEs

Highlights:

1.21% High Grade Cobalt over 12.30m including 12.48% Co over 0.90m

Objectives:

43-101 Resource Estimation with Continued Exploration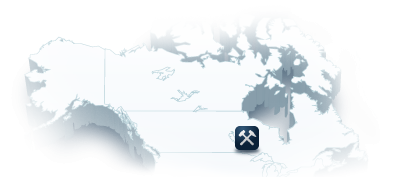 ---
Profile:
The Werner Lake Mineral Belt is Global Cobalt's Canadian based priority asset and provides the nearest term primary-cobalt in Canada. The land package stretches 60km along highly mineralized strike and consists of approximately 1,700 hectares located in the Kenora Mining District in Northwestern Ontario. Historic non NI 43-101 compliant reserves and resources total 1.1 million tonnes of 0.31% cobalt, 0.29% copper and 0.011 opt gold. The Werner Lake Mineral Belt covers two past producers and at least five historic deposits including three extremely rare primary cobalt deposits and two significant nickel-copper-PGE deposits. Global Cobalt aims to further advance the Werner Lake Cobalt Deposit and provide a NI 43-101 compliant resource estimate with near-term production decision.
Location and Access:
The Werner Lake Belt Deposit consists of approximately 1,700 hectares in the Kenora Mining District in the extreme western part of the Province of Ontario, Canada.
The Werner Lake property area is located in Northwestern Ontario, approximately 90 km north of Kenora, Ontario, and 90 km east Northeast of the town of Lac du Bonnet, Manitoba. The project area is some 12 km east of the Ontario-Manitoba border, within the Umfreville Lake sheet.
The Werner Lake Property has to be accessed from Manitoba, by a secondary gravel roadthat continuesfrom Manitoba Provincial Road 315 at the Manitoba â?Ontario border east to the past-producing Gordon Lake Nickel-Copper Mine.The property is approximately 125 kilometres by road from the town of Lac du Bonnet.
The area can also be accessed by floatplane or via several portages onto Almo Lake, the epicentre of the Werner Lake project area.
Topographically, the area is characterised by low relief, with variable drainage on quite thin glacial andsparse fluvioglacial deposits. Locally, there is steeper terrain, due to a number of significant faults.There is significant outcrop on the property & adjacent ground, affording excellent mapping opportunities, albeit with stripping recommended.
The climate at the Werner Lake property is comparable to that of Winnipeg, Manitoba and Kenora, Ontario thereby allowing operations and access to be carried out year-round.
Infrastructure:
The facilities associated with the old mining operations have all been abandoned or dismantled and are of no value for any new development. Ontario Hydro does not supply power to the area any longer and transmission lines have been removed. Although the project lies in the extreme western region of Ontario a road connects with a provincial highway in Manitoba providing four-season access. There has also been more than $12 million spent on the development of the project, including a decline shaft and drifts, drilling, environmental, metallurgical and feasibility work along with mine engineering.
The earliest recorded claim staking in the Werner Lake area appears to have been about 1921 when the discovery of what was to become the Werner Lake mine was made. This property eventually came under the control of Falconbridge predecessor, Ventures Limited and achieved some production of cobalt ore between 1932 and 1944. Subsequently Falconbridge undertook more exploration including diamond drilling in 1957. They optioned their claims to Canmine in 1995, who earned a 100% interest in them.
Not until 1942 were the first claims staked over the Gordon Lake deposit. This property was worked on by several companies including Noranda (1942 â?1945) and INCO (1945 â?1952). Consolidated Canadian Faraday Ltd eventually took control of a large consolidated block; which company in turn came under the control of Conwest Exploration Limited. Canmine bought a large number of claims from Conwest in 1995. Just prior to the bankruptcy of Canmine they optioned part of their property to Atikwa Minerals Limited who also optioned the Norpax property and undertook an exploration program focused on the area around the Norpax property. The work included surface sampling and diamond drilling.
The historic work falls into three phases. The early production and resource delineation period, the Canmine work period and the Atikwa work period.
In the mid nineteen nineties Canmine Resources Corporation assembled a mineral claims and land package which included most of the past producing areas in the camp and also residual resources referenced in old reports as not having been mined. Geophysical surveys followed by diamond drilling were successful at expanding known mineral zones and finding new ones in the vicinity of prior workings. Werner Lake is characterized by small but more numerous lenses of mineralisation with clearly evident structural control and multiple metals having grades at levels where each could be considered as the primary economic component of the mineralized rock.
Canmine initially pursued exploration with drilling and resource expansion leading to engineering, metallurgical and environmental studies to scope out a pre-feasibility level assessment of the property. The company also developed an interest in cobalt as the primary commodity and envisaged production being utilized to provide feedstock for a cobalt refinery they were establishing at Cobalt, Ontario. Inability to equity finance the projects led to the company seeking protection under the Companies Creditors Arrangement Act of Ontario. Commerce Capital Inc. then acquired title to the mineral rights and associated surface rights of the property and through a plan of arrangement with 2042708 Ontario Ltd. Puget made arrangements to acquire the properties from Commerce. The current property was assembled in the late 20000â?s, to include much of the Canmine land package, (via Commerce Capital Inc. following Canmine entering into receivership), the West adjacent Norpax property, several mining claims, plus more recently, property obtained from Benton Resources.
From December, 2009 to May, 2010, Puget Ventures Inc. completed a 33 diamond drill hole programme totaling 7565.3 metres as part of an exploration & resource estimate programme, on its Werner Lake property, north-western Ontario.
The primary goal of the programme was to increase known mineralisation obtained from previous drilling, & aid in the calculation of a resource for the Werner Lake & West Werner Lake Cobalt-Nickel-Copper deposits.
The Werner Lake Geologic Belt is part of the Archean English River Subprovince of the Superior Geological Province in Ontario. The area is underlain by metasedimentarymigmatites intruded by syn- to late-tectonic felsic intrusive rocks. The migmatites are predominantly quartz-feldspar-biotite gneiss and lesser ultramafic and mafic igneous rocks and mafic amphibolite gneiss (Beakhouse, G.P., 1997). Figure 3 shows the general geology and distribution of sulphide occurrences, alteration and faults. The belt is defined by a deep-seated fault that is believed to have ruptured the Superior Province. The fault zone is up to 500 metres wide and dips near verticaly. The entire area of the fault has ben termed theeâ?Cu-Ni-PGE zoneeâ? by J.R. Parker of the Ontario Geological Survey.
At Werner Lake, the fault zone is marked at surface by a prominent 25 to 50 metre wide U-shaped valley. To the west it disappears under Reynar Lake, and at the Manitoba border, it is covered by overburden and Oiseau (Bird) Lake. The Bird River ultramafic sill in Manitoba, up to 500 metres wide, follows the strike continuity of the deep-seated fault. The fault zone to the east furcates into a number of smaller, discontinuous faults in the vicinity of the eastern end of Rex Lake. Parker has interpreted the erosional level of the belt to vary from one end to the other, preserving the top of the system in the west in the Oiseau (Bird) River area of Manitoba and being near the bottom of the system of the fault zone in the east in the Rex Lake area, east of Werner Lake. High grade, amphibolite to granulite facies, metamorphism affects the Ontario portion of the Werner Lake belt.
The area has undergone complex, multiple phases of deformation. Major east-trending fault and crosscutting block faults are the dominant structural features, and appear to have the greatest control on mineralization. Block faults strike northwest and northeast with steep dips. Based on crosscutting relationships, some of these faults predate and some postdate the major east-trending fault, indicating a prolonged period of structural deformation and fluid flow. The block faults manifest at surface by major topographic lineaments, and in drill core by extensive fault gouge and fault breccia. These fault zones are at least 30 metres across, and are traceable for tens of kilometres.
There are five mineralized zones with historic mineral resources on the property: these are the Norpax deposit, West Cobalt deposit, the Werner Lake Minesite Cobalt deposit, the Eastern Shallows Cobalt deposit, and the Big Zone deposit. The Norpax deposit is located approximately seven kilometres east of the Manitoba border and lies under a lake paralleling and some 70 â?150m north of the road. The lake has variously been named Tigar and Almo. In addition to the main deposit other drilled smaller zones are reported upto500m east and 1000m west. The western trend of mineralisation merges with that of the Big Zone. The Norpax zone is entirely under the lake immediately west of a prominent cross fault reflected by the arms of the lake. The West Cobalt Deposit is located 14 kilometres east of the Manitoba border, approximately 100 metres north of the access road, between Almo and Werner Lakes. The Werner Lake Minesite Deposit is located approximately 500 metres east of the West Cobalt Deposit. The Eastern Shallows Cobalt-Copper Deposit is located about 4.2 kilometres east of the Werner Lake Minesite Cobalt Deposit near the eastern shore of GordonLake on patented mining claims KRL 33208 and KRL 33206. The Big Zone is located on unpatented mining claim 1208152 between Seal Lake and Tigar Lake, west of Werner Lake, approximately seven kilometres east of the Manitoba â?Ontario border.
Canmine stated in their 2001 A.I.F. that the Werner Lake West Cobalt and Minesite Deposits had undiluted reserves and resources totaling 232,316 tonnes at 0.36% cobalt, 0.28% copper and 0.011 oz/t gold.
The breakdown of each category is as follows:
Proven reserves total 140,031 tonnes of 0.47% cobalt, 0.26% copper and 0.008 oz/t gold.
Probable reserves total 40,829 tonnes of 0.25% cobalt, 0.43% copper and 0.030 oz/t gold.
Indicated resources total 51,456 tonnes of 0.13% cobalt, 0.20% copper and 0.003 oz/t gold.
Inferred resources total 869,378 tonnes of 0.29% cobalt, 0.28% copper and 0.011 oz/t gold.
The Eastern Shallows deposit contains total indicated resources of 63,517 tonnes with 0.29% cobalt and 0.63% copper.
The Big Zone deposit contains total indicated resources of 172,396 tons with 0.26% copper, 0.62%nickel, 0.02% cobalt, 0.009 oz/t platinum and 0.030 oz/t palladium.
Historic Resource and Reserve for Werner Lake Cobalt Projects, Ontario
Category1
Mining Area2
Tonnage(tonnes)
Cobalt(%)
Copper(%)
Gold(opt)
Proven Reserve
Leses 1&2
17,145
0.46
0.14
0.022
Proven Reserve
Lens 3
34,476
0.72
0.30
0.005
Proven Reserve
West Cobalt
82,210
0.37
0.27
0.06
Proven Reserve
Stockpile3
6,200
0.50
0.30
0.09
Proven Reserve
West Cobalt
40,829
0.25
0.43
0.030
Indicated Resource
West Cobalt
51,456
0.13
0.20
0.03
Inferred Resource
West Cobalt
363,647
0.37
0.27
0.006
Inferred Resource
West Cobalt
430,663
0.18
0.29
0.015
Inferred Resource
Minesite
55,068
0.63
0.24
0.011
TOTAL
1,101,694
0.31
0.29
0.011

1. Terminology for mineral resource calculations conforms with nomenclature recommendations by the Canadian Institute of Mining. Metallurgy & Petroleum's Ad Hoc Committee on Mineral Resource Classification, tabled in March 1997 at a workshop given by the Prospectors and Developers Association of Canada and the Natural Resource and Energy Law Section of the Canadian Bar Association
2. Surveyed estimate of volume
3. Non NI 43-101 Compliant Ore Reserves and Resources, Werner Lake Project, Undiluted
During November 2009 Puget utilised a diamond-drilling contractor to complete a four-hole diamond-drilling program, aggregating 1,403 metres into the Norpax deposit. Core was logged, split and sampled by Puget personnel. The primary goal was to test for additional mineralisation and to quantify minor elements such as platinum group elements and gold associated with the copper and nickel. Grades for base metals (copper and nickel) were similar to those encountered in earlier workerrâ?s drilling into the Norpax deposit while values of minor elements including cobalt and the PGE suite, were negligible. The company concluded the deposit was poddy and disrupted by faulting and with its negligible minor element content did not justify additional drilling.
From December 2009 to May 2010, Puget utilised the same diamond-drilling contractor and completed a 33 diamond-drill hole programme targeting the Werner Lake and West Werner Lake cobalt-nickel-copper deposits. Totaling 7,565.3 metres of coring, the primary goal of the programme was to increase known mineralisation obtained from previous drilling and aid in the estimation of a resource for the Werner Lake and West Werner Lake cobalt-nickel-copper deposits.
The drilling returned significant base metal intercepts hosted within a folded, moderately strained to highly sheared, mafic-ultramafic volcanic-intrusive assemblage. Where best preserved the ultramafic is a two pyroxene, amphibole, plagioclase, lherzolitic peridotite. Locally pyroxenite, amphibolite and gabbro were also recognised that also host appreciable sulphides. Highest sulphide concentrations are >5% with varying proportions of pyrite, chalcopyrite, cobaltian pyrite, cobaltite and pentlandite. Semi-massive sulphides, which historically returned high cobalt values, were rarely intercepted except over 10 â?20 cm widths. It is apparent that mineralised widths for cobalt-rich material are relatively narrow, in the order of 1-3 metres.
The results of this drilling combined with the previous drilling and underground information will allow an updated resource estimate and thereafter consideration of a preliminary economic analysis of potential for commercial production. Puget has retained AGP Mining Consultants Inc. to prepare a resource estimate but completion of that estimate is not expected for some months.
Werner Lake is an advanced exploration and development project with a near term production focus. Continued successful drilling results from the Spring/Summer 2010 program will be used along with historical data to produce a NI 43-101 Resource Estimate.
The following work program is suggested.
Additional drilling is warranted to establish continuity between the deposits.
Any old core on adjacent areas should be retrieved and re-logged with a view to establishing stricter controls on mineralisation and host, and importantly, structural controls on said mineralisation.
It is also unclear if there is a geophysical signature associated with the mineralisation, and magnetometer test lines across the deposit, could provide useful data.
The deposit has yet to be delineated and drilling along strike (East & West), and down-dip, is certainly warranted.
Ground cover is relatively shallow, and to test for continuity, it is recommended that prospecting be carried out to define the garnetiferous alteration flanking the mineralisation (hangingwall & footwall in most cases).

A percentage of samples from holes analysed using the WCM standards should be re-analysed as a check due to the high variance obtained from said sample batches. This includes â?high gradeeâ? cobalt and copper intercepts in the early holes. High-grade results were reported from sample batches using the WCM standard,

and it is strongly recommended that this be carried out to ensure adequate sampling and analysing protocols.

Prospecting along the trend of the Werner Lake mine sequences will undoubtedly reveal a quite linear associated alteration sequence, with the key marker being the aforementioned alteration package. The extent of outcrop weighs in favour of this over a large scale trenching programme, though clearly, there are significant areas, e.g. West of the warehouse, to Almo Lake, where cover and faulting have covered the target sequence.
Prospecting can be extended to the Norpax deposit, with the caveat that the sequence is likely in part under Almo Lake, and eastwards to the Gordon Lake mine.
At this stage, it is unclear whether the Gordon Lake mine sequence is an extension of the Werner Lake deposits, or a separate, parallel â?systemmâ?. Prospecting could go some way to answering this. Geophysical techniques have yet to be proven to be applicable to such a deposit. The extent of magnetism will render such a survey to be irrelevant, as many sequences have magnetite to some degree.
Prospecting could be undertaken from the Alcock-Mosher D showing West of Norpax, as far East as the Rexora 5 Occurrence, a distance of over 12 km. The approximate width of traverses is 0.4 - 0.5 km only. The work should also include prospecting on & around the Quebec Nickel Corporation Occurrence, 1 km North of Almo Lake. Such a strike length would necessitate utilisation of a minimum 4 prospectors plus a project geologist, to conduct work for a maximum period of 40 days.
Additional drilling is somewhat predicated on the re-modelling of the deposits, with inclusion of the results from this round of drilling. It is apparent that mineralised widths, certainly for cobalt, are relatively narrow, in the order of 1-3 metres. This modelling, combined with perhaps a revised estimate of projected cobalt prices should provide an indicator of minimum tonnes and grade.