Karakul Cobalt Deposit
Locations:

Karakul Cobalt Deposit

Status:

Advanced Exploration Property

Mineral Assets:

Polymetallic Cobalt, Copper, Bismuth & Tungsten

Highlights:

Potentially the largest source of Primary Cobalt outside of Africa

Objectives:

Resource Expansion Drilling, Feasibility Study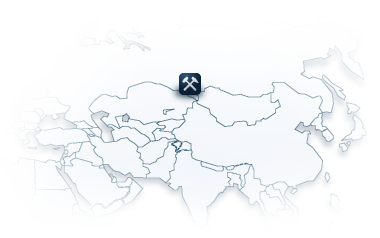 ---
Profile:
The Karakul Cobalt Deposit is potentially the world's largest source of primary cobalt outside of the distressed conflict regions of Africa's Copper Belt. This 100% owned primary cobalt deposit is located in the pro-mining and mineral rich region of Russia's Altai Republic. Historic (non NI 43-101) Russian estimates suggest 14.9 million tonnes of 0.26% cobalt equivalent in nine sulphide bodies with potential expansion on strike and at depth. The Karakul deposit is a hydrothermal polymetallic sulphide deposit that is attractive for its cobalt, copper, bismuth, gold, silver and tungsten mineralization. At least five parallel north-south trending structurally controlled sulphide zones are delineated and open at depth.
Location and Access:
The Karakul Cobalt Deposit is located in the southern region of the Republic of Altai in the Russian Federation. It is approximately 5km from the border with Mongolia, in an area that is considered to have extraordinary mineral potential. The exploration project license (GOA 00261 TR) covers an area of 4.62 square kilometres and grants rights to rock and mineralization within the designated area to an elevation of 2,100 metres above sea level.
As the project is located in the far south-east of the Republic of Altai, access is by air to Barnaul and then by regional paved highway through the towns via Byisk, Gorno-Ataisk and Koch Agach. A well-maintained dirt road connects the project site from the highway. The local terrain comprises rolling hills with rugged mountains that rise along the Mongolian border. The climatic conditions reflect the central continental location and high elevation of the steppe area. Precipitation is modest with snow depths seldom exceeding a few centimeters, and as such exploration and mining can be undertaken year round.
Infrastructure:
Kosh Agach is serviced by a 110-kilovolt power line with spare capacity that terminate in close proximity (18km) to the project. Although still in a preliminary discussion stage, a natural gas pipeline may be constructed between Russia and China. The regional highway M52, paved and in good state, passes in close vicinity to the Karakul Project and could be modified to support large transport vehicles. The closest railway station is in Byisk, connected to the project via the regional highway, and is approximately 620 kilometres from the deposit.
While the area around Kosh Agach is considered to be one of the driest in the Russian Federation, water is available form a number of rivers and streams in the area that originate in the Altai Mountains. In addition, two sixty metre deep wells have been drilled a short distance from the deposit with a current capacity of up to ten cubic metres of water per hour.
There are some existing mechanical and light industrial enterprises within the region capable of supporting some of the envisaged maintenance and engineering work. The Altai region is reasonable industrialized with a skilled labour force.
A core storage facility exists in Kosh-Agach with a number of permanent buildings including an open core shack and office buildings located near the underground workings portal. Drill roads provide access to drill pads used during the most recent drilling program. There is also approximately three kilometres of underground development.
Between 1955 and 1973, various expeditions conducted reconnaissance geological work in the large area comprising Karakul. In 1973 copper-cobalt-tungsten mineralization was encountered at he Karakul site by the Saylyugemskim detachment of the Argutskoy Party during regional geological mapping. The findings were regarded as highly prospective and trenching was conducted to characterize the mineralization further.
Between 1978 and 1985 the state-sponsored Kurai Expedition explored in more details the Karakul area, leading to the discovery of thirty separate suplhide bodies containing bismuth, copper, tungsten, gold and silver mineralization. The best sulphide zones were delineated by trenching and drilling over a strike length of up to 530 metres from the surface to a depth of 25o metres and ranged from one to twenty-three metres in thickness. Approximately 3,000 metres of underground tunnels were completed to evaluate the Western Zone. During the period approximately 24,000 metres of surface drilling and 1,000 metres of underground drilling were completed.
In January 2006 RuMetall was granted license GOA 00261 TR; that covers the Western Zone of the Karakul deposit. The license was expanded on November 20, 2006 to include the Eastern Zone. Exploration work in 2007 and 2009 focused on the Western Zone and the northern part of the Eastern Zone. Various engineering studies were completed to evaluate the feasibility of an underground mine project at Karakul.
In 2006 Siberian Scientific-Research and Projecting Institute of Base Metallurgy completed a feasibility study on the Karakul project. As part of this study the mineral resources were re-estimated using a Russian System. The non NI 43-101, C1+C2 Mineral resources for nine sulphide bodies of the Western Zone were estimated at 14.98 million tonnes grading and average of 0.21% cobalt, 0.06% bismuth, 0.44% copper and 0.11% tungsten trioxide.
In 2008 106-diamond boreholes totaling 16,768 metres were drilled. Ten short large diameter boreholes were also drilled to test the permafrost soil and its corrosiveness to concrete.
The Karakul Deposit is a hydrothermal polymetallic sulphide deposit that is attractive mainly for its cobalt content. Copper, tungsten, and bismuth are also of economic interest. The Karakul deposit exhibits ma large granitic intrusion as well as breccia and shear zones that likely acted as pathways for the ore forming fluids. It is suggested that the Karakul deposit is a multi state epithermal deposit in which the metal was sourced from at least tow different rock masses.
Five parallel north-south trending mineralized zones are distinguished and include the Western Zone, the Eastern Zone the Northeastern Zone, the Southwestern Zone and the Malachite Zone.
Of these zones, the Western Zone is the best studied and the most promising. It has been traced over 3.5 kilometres from north to south. The Eastern Zone is located 300 metres to the east of the Western Zone and has similar characteristics and extends over a strike-length of 2.2 kilometres.
In 2006 RuMetall commissioned the Siberian Scientific-Research and Projecting Institute of Base Metallurgy to complete a feasibility study for the karakul Exploration Project. This study included a re-evaluation of the mineral resources based on historical data. The drilling information collected by RuMetall was not included in this study.
Mineral resources were estimated for nine distinct zones in the Western Zone using a polygonal approach on longitudinal sections. Polygon boundaries were defined at mid-point between drilling or underground sampling to a maximum distance of 150 metres. Polygons were assigned an average grade based on the weighted average grade of the samples intersecting each polygon. Mineral resources were classified in the C1 and C2 category and were reported at three cobalt equivalent grades (0.075, 0.1 and 0.125 percent) assuming metal pricing assumptions of the time. The historical C1 and C2 mineral resources are reported below.
The feasibility study addressed surface and underground mining methods, mining schedule, finances, underground and surface mine infrastructure including power and water supply, concentration and extractiontechniques, shipping options for the final product, and an environmental assessment.
The reader is cautioned that Russian system of evaluation of mineral resources and the feasibility of projects differs from international reporting guidelines (e.g. JORC or National Instrument 43-101). A qualified person has not verified the resource evaluation methodology or the reliance on historical data. As a result the Russian resource estimates and the economic feasibility that are considered historical should not be relied upon. The historical Russian estimates are presented solely to demonstrate that sufficient exploration work was completed on the Karakul project to demonstrate the potential dimensions of the polymetallic sulphide zones (strike and depth) and their relative continuity. The quantities and grade estimates should not, however, be relied upon.
Summary of Historical C1 and C2 Mineral Resources* for the Karakul Exploration Project, Siberian Scientific-Research and Projecting Institute of Base Metllurgy, 2006
Sulphide Zone
Quantity
Grade
Blocks
Area(m2)
Thick(m)
Volume(m3)
Specific Gravity
Tonnage(tonnes)
Cobalt(%)
Bismuth(%)
Copper(%)
WO2(%)
Co Equiv.(%)
ZONE 1
1-C1
10,215
7.45
76,053
3.00
228,159
0.21
0.09
.052
0.13
0.29
ZONE 1
2-C1
11,664
2.73
31,788
3.00
95,3639
0.12
0.09
0.08
0.01
0.15
ZONE 1
3-C1
17,200
10.60
182,338
3.00
547,013
0.19
0.10
0.48
0.04
0.26
ZONE 1
4-C1
13,075
1.72
22,4638
3.00
67,389
0.13
0.08
0.66
0.77
0.22
ZONE 1
5-C1
86,907
5.57
484,005
3.00
1,452,016
0.17
0.09
0.53
0.07
0.25
ZONE 2
6-C2
43,075
3.11
134,148
3.00
402,443
0.16
0.04
0.07
0.00
0.18
ZONE 3
7-C2
33,410
6.20
207,603
3.00
622,809
0.13
0.08
0.53
0.18
0.21
ZONE 4
8-C2
10,643
3.80
40,679
3.00
122,037
0.15
0.05
0.14
0.00
0.17
ZONE 5
9-C2
53,780
15.20
815,435 3.00
2,446,305
0.20
0.11
1.20
0.24
0.36
ZONE 5
10-C2
48,660
5.10
245,934
3.00
737,803
0.20
0.11
1.20
0.34
0.36
ZONE 6
11-C2
45,500
18.60
846,920
3.00
2,540,760
0.18
0.09
0.09
0.01
0.21
ZONE 6
12-C2
41,592
2.40
99,099
3.00
297,292
0.42
0.36
0.08
0.30
0.51
ZONE 6
17-C2
15,000
5.70
85,665
3.00
256,995
0.49
0.46
0.24
0.01
0.59
ZONE 7
13-C2
59,700
11.60
691,922
3.00
2,075,766
0.15
0.02
0.12
0.19
0.17
ZONE 7
19-C2
40,920
2.20
88,372
3.00
265,117
0.21
0.01
0.04
0.00
0.13
ZONE 8
14-C2
21,140
33.70
712,986
3.00
2,138,957
0.35
0.11
0.26
0.03
0.40
ZONE 8
15-C2
19,845
2.20
43,694
3.00
131,081
0.36
0.14
0.83
0.30
0.49
ZONE 9
16-C2
15,725
11.70
183,787
3.00
551,362
0.12
0.02
0.02
0.02
0.12
TOTAL C1
52,154
5.99
312,642
937,924
0.18
0.10
0.46
0.06
0.25
TOTAL C2
535,897
873
4,680,249
14,040,748
0.21
0.09
0.44
0.11
0.28
TOTAL C1+C2
588,051
8.49
4,992,891
14,978,672
0.21
0.09
0.44
0.11
0.28
Note: The reader is cautioned that the figures presented in this table are historical in nature, have not been verified by a Qualified Person and should not be relied upon. Puget are not treating them as current. Historical Mineral Resources estimated by the â?Siberian Scientific-Research and Projecting Institute of Base Metallurgyyâ? in 2006. * Reported at a cut-off grade of 0.1 percent cobalt equivalent. Co eq. ** Cobalt equivalent grade considering the metal price assumptions discussed in text.
The Karakul Cobalt Deposit is an advanced stage exploration project with near term producing potential. Exploration project design for both the Western and Eastern Zones have been completed along with a baseline social and environmental study meeting Equator Principles. Extensive metallurgical work has been carried out to support the preparation for the most recent resource calculations using a non NI 43-101 compliant Russian resource disclosure system.
| Work Performed | 2007 | 2008 | 2009 |
| --- | --- | --- | --- |
| Topographical Survey | Complete | | |
| Engineering Studies | Complete | | |
| Metallurgical Study | Complete | | |
| Eastern Zone Assessment | Complete | | |
| 106 Core Boreholes | | 16,768 metres | |
| Downhole Geophysical Survey | | On approx. 80 diamond drill holes | |
| Geochemical Assays | | 2,021 | |
| 3D Geological Modeling | | | Complete |
SRK Consulting was procured to conduct a technical report in 2010 on the merit of the Karakul project and it was determined that it be characterized as an advanced exploration property with recommendation for additional exploration and pre-development expenditures. The recommended work program designed by SRK would validate historical exploration work, delineate the polymetallic suplhide mineralization, evaluate mineral resources and prepare an initial mineral resource statement that will satisfy National Instrument 43-101 guidelines and examine at a scoping level the viability of a conceptual mine on the Karakul Project.
The proposed work program includes:
Review, compilation and interpretation of Russian data to define validation and delineation drilling targets;
Rehabilitation of surface facilities and underground workings to support drilling;
Surface and underground core drilling to verify historical results and delineate the extent of mineralization;
Geological modeling;
Mineral Resource modeling and preparation of an initial Mineral Resource Statement
The total cost for the recommended work program is estimated at approximately CDN $10.85 million and includes a provision of contingencies and administrative costs.
The cornerstone of Global Cobalt's initial strategy is the confirmation and expansion of mineral resources and production of ore at the Karakul deposit. Advancement of this deposit would realize Global Cobalt as a significant regional player and a leader in the cobalt industry.
Exploration work will serve three key purposes:
Further classification of Russian Mineral Resources and Reserves
NI 43-101 Mineral Resource/Mineral Reserve Classification
Expansion of the mineral resources down-dip and along strike
An initial drill campaign will be carried out forming the basis of the mineral resource for a planned scoping study and feasibility work to satisfy both NI 43-101 requirements and Russian regulatory/licensing requirements. Concurrent with this, metallurgical testing will e carried out to determine the optimal process route and confirm earlier work done on the project.
The mine site will also need significant infrastructure rehabilitation and build out to support the establishment of the Karakul mine.